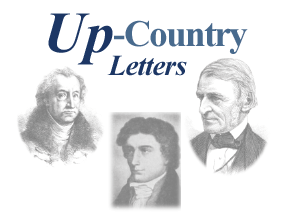 Welcome to the home of Up-Country Letters.
Please use the search feature to access our inventory, or scroll down for links to recent catalogues.

Up-Country Letters Fine and Rare Books is an internet rare bookselling concern operated in Gardnerville, Nevada, USA, by Mark Stirling. We specialize in Nineteenth Century American and English Literature, particularly American Renaissance and Transcendental Literature, Ralph Waldo Emerson, Henry David Thoreau, and Nathaniel Hawthorne. We also maintain an inventory of general rare and fine antiquarian books and manuscripts, first editions, natural history (especially birding) books, and archaeological books and monographs. 

Please search or browse our inventory of hard to find, out of print, used, and rare books. If you can't find what you like please fill out our off-line search form and we will search our off-line inventory, other bookstores, and book search services for you.
List 8:   Emerson, Carlyle, Patmore, Barrett, Clough
      Click here:        https://www.upcole.com/media/Three%20items%2C%20Clough%2C%20Emerson%2C%20Patmore%2C%20Browning.pdf
List 7:   Pitt, Peel, Perceval, Bentinck, UK Prime Ministers and Other Pols
      Click here: https://www.upcole.com/media/files/Pitt%2C%20Peel%2C%20Perceval%2C%20Bentinck%20(1).pdf 
List 6:  Vancouver's Voyage to the North Pacific and around the World, 1801
      Click here: Vancouver Voyage 12-13-2022
List 5:  E.O. Wilson, an important collection
      Click here: E-O- Wilson 12-13-2022
List 4:  Transcendentalism
     Click here:https://www.upcole.com/media/home/Transcendentalism.pdf
List 3:From the Library of....: Association Copies
    Click here: http://www.upcole.com/media/home/FromTheLibraryOf.pdf
 List 2: 19th c. Manuscripts, Editors, Publishers
   Click here: http://www.upcole.com/media/home/ManPubMed.pdf 
 Catalogue 29, Nature
   Click here: http://www.upcole.com/home/nature.pdf 
eList: Andrews Norton. Unitarian, Scholar, Polemicist.
Click Here: http://www.upcole.com/media/home/andrewsnorton.pdf
eList Two: D'Arcy Wentworth Thompson, Father and Son, individually priced.
Click Here: http://www.upcole.com/home/dw%20thompson%202.pdf